IICEC 10th Annual Energy Conference featuring the World Energy Outlook 2019 Turkey Launch
Sabancı University Istanbul International Energy and Climate Center (IICEC), which brings together key stakeholders in energy and climate since its establishment in 2010, brought the energy World together at the 10th Annual IICEC Energy Conference.
The International Energy Agency's (IEA) World Energy Outlook 2019 report was launched for Turkey during the conference held in Istanbul on December 20, 2019. Senior public representatives, executives of global leading organizations in the national and international energy sector, and representatives of leading universities, policy centers and think tanks attended the conference, hosted by Güler Sabancı, Sabancı University Founding Chairman of the Board of Trustees and Prof. Carmine Difiglio, Sabancı University IICEC Director.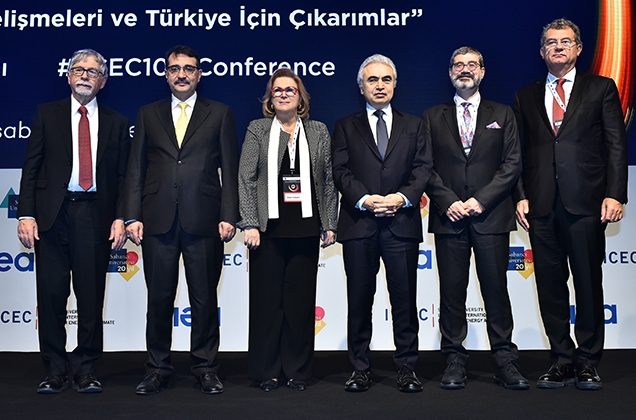 Carmine Difiglio, Fatih Dönmez, Güler Sabancı, Fatih Birol, Yusuf Leblebici, Simone Kaslowski

Minister of Energy and Natural Resources Fatih Dönmez, the honorary guest of the conference, made important statements about Turkey's energy policies. "Turkey is a natural energy center with its two onshore and two FSRUs with underground storage facilities and various gas entry points." said Minister Dönmez, during his opening remarks. Minister Dönmez stressed that the energy trading centers need risk assessment tools, and EXIST would improve these tools to market players in the near future. "Therefore, Turkey's natural gas market will contribute to regional welfare with multi-players." said Minister Dönmez.
Minister Dönmez highlighted the importance of increasing the number of sellers and buyers in a liberalized market and said, "We need to achieve a more developed market by attracting more sellers and buyers to be a real energy trading center, rather than being an energy transit country." "We are currently working on a new tariff model for consumers who would like to buy electricity only from renewable resources." said Fatih Dönmez, emphasizing their policy for promoting local and renewable sources. Highlighting the importance of transformation in the electricity market, he stressed that Turkey should build up an ecosystem for producing and exporting technology, rather than importing and using it.
"We are conducting the 10th Annual Energy Conference of IICEC, befitting its identity of 'International Research Center' in the 20th anniversary of the Sabancı University." said Güler Sabancı, during her opening remarks. "We have achieved significant improvements for the future of our sector by the tripled installed capacity as an outcome of investments over $100 billion, promoting renewable energy by the YEKA model, strong increase in the share of domestic resources in electricity generation, and the level operational excellence and supply quality." added Güler Sabancı, by emphasizing the crucial role of the Ministry of Energy and all regulatory and decision-making bodies in the strategic energy sector. "We are moving towards an energy ecosystem that is rapidly transforming with the effect of technology. But there is an unchanging element: Human. When we talk about energy in our country, we are talking about a broad ecosystem with over 500 thousand employees in public institutions, private sectors, NGOs, and universities. Therefore, our most important value for the future is our professional human resources. At this point, we attach great importance to public-industry-university cooperation in energy, like in many fields.
IICEC continues to work on this triple model. We can call this the "Success Triangle". We will continue to focus on high value-added, information, and technology-intensive projects and collaborations in the upcoming period. We need to move our sector to a better future by using our human resources and technology more effectively in addition to our energy resources." she added.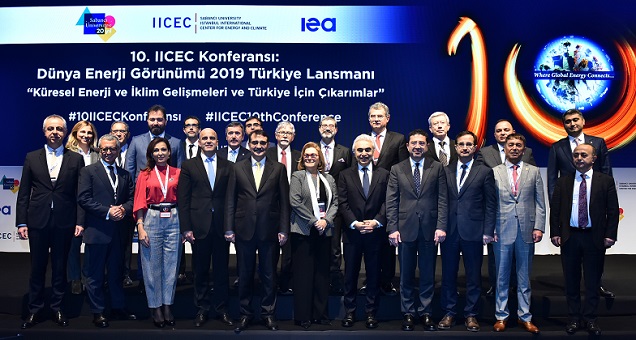 New Policy to Focus on Efficient Growth Simone Kaslowski, Chairman of the Turkish Industry and Business Association (TUSIAD), urged that Turkey's new policy need to focus on efficient growth, in his speech at the 10th IICEC Conference. "Sustainability, efficiency, resource optimization, environmental compliance, strong infrastructures, and security of supply, have to be considered as our targets for the upcoming period. We would like to propose four main focal points in order to ensure the sustainability of existing investments in the sector and to provide a reliable investment environment for new investors: We must quickly eliminate factors that hinder predictability in line with the objectives of the Electricity Market Law and the 11th Development Plan. We need to adopt new tools for increasing competition in the market for improving the benefits of the consumers. And we need to increase predictability in the market." said the head of Turkey's biggest business association.
10TH ANNUAL IICEC ENERGY CONFERENCE HOSTED THE TURKEY LAUNCH OF WORLD ENERGY OUTLOOK 2019
The Turkey launch of the International Energy Agency's (IEA) flagship publication, World Energy Outlook 2019 report is made by the IEA's Executive Director and IICEC's Honorary Board Chairman Dr. Fatih Birol, during the 10th Annual IICEC Energy Conference. World Energy Outlook 2019 explains the impact of today's decisions on tomorrow's energy systems and describes a pathway that enables the world to meet climate, energy access, and air quality goals while maintaining a strong focus on the reliability and affordability of energy for a growing global population.
Highlighting crucial considerations for the global energy industry, Dr. Birol stated the abundance of energy as one of the most important topics of the global energy sector. "The most important topic in the global energy sector is the abundance of energy, including oil, natural gas, coal, and other resources. We are now entering a period of abundance. Decision-makers have to determine how to supply energy with reasonable prices and the least harm to the environment in this period. Because cheap energy source is not always friendly to the environment, while environmentally friendly resources can also be expensive." Dr. Birol explained.
IEA's Executive Director Dr. Fatih Birol pointed out that there are serious contradictions in the global energy sector as well as the abundance of energy and continued his speech as follows: "The first of these is in the oil markets. In 2019, Venezuelan oil production declined enormously, while Iranian exports were almost zero due to sanctions. There was a serious attack on Saudi Arabia. Despite such problems, oil prices remained at the level of $60. After the meeting of the OPEC in Vienna, prices remained unchanged as OPEC and Russia's share in oil production is rapidly declining. So, there is a significant decline in their ability to dictate prices in the world oil markets. This case is favorable for the global economy and the import-dependent countries like Turkey, but it is a contradiction at the same time. Another contradiction is the climate change. The energy sector is responsible for 80 percent of the emissions that cause climate change. The access to electricity is prioritized as a human right, however 850 million people still do not have electricity. This is also another contradiction."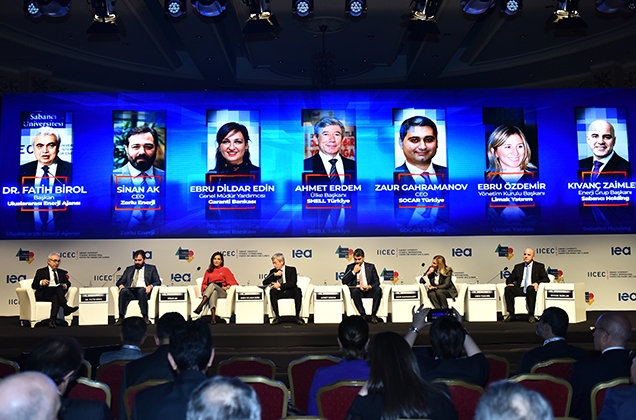 DR. BIROL CHAIRED THE TURKEY ENERGY BUSINESS LEADERS PANEL
The 10th Annual IICEC Energy Conference concluded with a comprehensive panel discussion, moderated by IEA's Executive Director and IICEC's Honorary Board Chairman Dr. Fatih Birol.
Sinan Ak, CEO of Zorlu Energy, Ebru Dildar Edin, Deputy General Manager of Garanti BBVA, Ahmet Erdem, Country Chairman of Shell Turkey, Zaur Gahramanov, CEO of SOCAR Turkey, Ebru Özdemir, Chairperson of the Board of Limak Investment, and Kıvanç Zaimler, President of Energy Group of Sabancı Holding participated in the "Turkey Energy Business Leaders" Panel. The panelists highlighted the importance of liberalization in Turkey's energy market for achieving financial sustainability while emphasizing the crucial role of predictability.
Our Annual Conference Series Become a Tradition The 10th Annual IICEC Energy Conference started with the welcoming speech of Dr. Mehmet Doğan Üçok, the Coordinator of IICEC. "IICEC is now organizing the 10th Annual Energy Conference, and we are delighted and honored to be here with you. We have organized national and international conferences over the last decade, and we had an increasing synergy and a cumulative impact every year. Our annual conference series become a tradition." said Dr. Üçok.
IICEC TO LAUNCH FIRST-OF-A-KIND TURKEY ENERGY OUTLOOK IN SPRING 2020
IICEC is preparing to launch Turkey Energy Outlook in the first half of next year, Prof. Carmine Difiglio, the Director of Sabancı University IICEC, revealed during his speech at the 10th Annual IICEC Energy Conference.
Prof. Carmine Difiglio gave brief information about the methodology, perspective, and the content of the Turkey Energy Outlook, in his presentation. "We realized that we had to consider simultaneously a wide variety of drivers that push the energy market in the long term. Therefore, we have started with Turkey's energy policy pillars, energy security, localization, and predictable markets." said Prof. Difiglio.
Prof. Difiglio revealed that the Turkey Energy Outlook would have detailed information for each supply and end-user sectors while providing pathways to be more competitive, efficient, localized, and sustainable energy economy. "The report will conduct detailed analysis for outlining two scenarios, the Reference Scenario, and the Value Scenario." he added.