The final report entitled "Where does gender stand in migration and environmental works? Examples from civil society in Turkey" for the project coordinated by Kristen Biehl, researcher at SU Gender and member of Faculty of Arts and Social Sciences and funded by the Raoul Wallenberg Institute Human Rights Research Grant Program, has been published.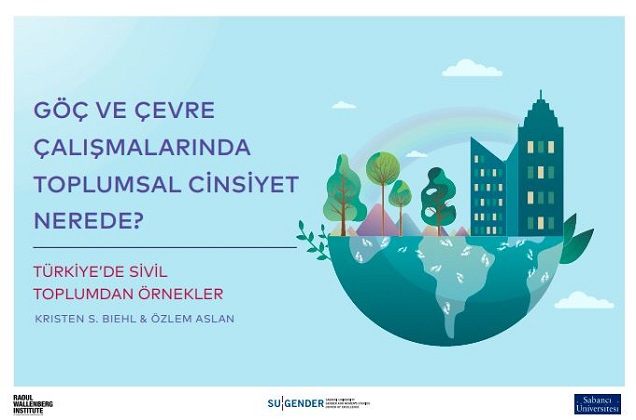 The report brings migration and environment, often treated as independent fields, into a unique conversation with one another through a gendered lens. By closely examining the gender awareness and approaches of NGOs working in the fields of migration and environment in Turkey, the report also considers ways of thinking about these two fields together around the axis of feminist politics.
How do NGOs working in migration and environment in Turkey see gender issues related to their areas of concern, and how do they implement gender equality both in their work activities and within their organizational structures?  And how can a research project carried out around this question with an intersectional approach contribute to thinking together about migration, environment and gender? Within the framework of this research designed to answer these fundamental questions, semi-structured interviews were carried out with 30 NGOs, half being from the field of migration and the other half from environment, all of which actively carry out rights-based works in Turkey and do not describe themselves as women and/or LGBTI+ organizations in their mission statements.
The first part of the report includes a summary of academic publications and reports focusing on Turkey around the four main concepts (civil society, gender, migration and environment) that constitute the background of the research topic. The second part of the report details the methodology of the report, including the selection process of organizations and interview methods. The third part examines findings of the research under the headings of migration and environment respectively. Under both headings, different conceptual perspectives on how organizations perceive the relation between their field of operation and gender are presented first. Secondly, how organizations involve gender awareness and/or their efforts towards gender equality in their work is examined. Lastly, internal structures of organizations are evaluated from the perspective of gender equality. In the conclusion and discussion part of the report, findings from migration and environment sections are presented in summary, and matters arising from thinking these two fields together are discussed. 
The report was co-authored by Kristen Biehl and Özlem Aslan, visiting professor at Kadir Has University. Mert Koçak, PhD candidate at the Central European University, and Aslı Aygüneş and Begüm Selici, PhD candidates at Sabancı University Gender Studies Program also made substantial contributions in the research stage. 
You can access the full report via this link.