In memory of Neris Ece Öz, our 1st year student at Sabancı Business School, who lost her life in the earthquake that took place in Hatay on February 6, a sapling planting ceremony was held with the participation of our President Yusuf Leblebici, İTÜ Faculty Member Naci Görür, who attended the "Society and Disaster Risk Management" seminar as a guest, our Secretary General Ali Çalışkan, our SBS Dean Nihat Kasap, and relatives of our student.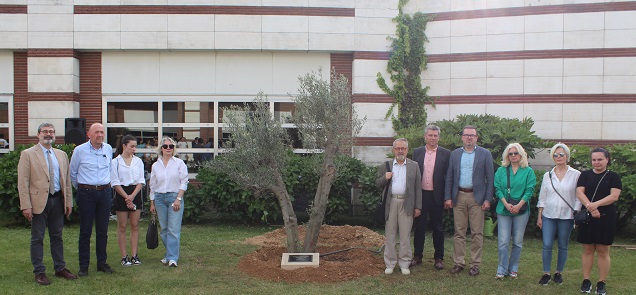 Expressing that Neris Ece's name will always live on at Sabancı University, our President Yusuf Leblebici said, "We have also launched a scholarship fund at Sabancı University on behalf of our dear student Neris Ece Öz. With the contribution of our staff members, we will support students who will choose to study at our university from the earthquake zone this year with this scholarship fund. It is our duty to be prepared for disasters such as the earthquakes on February 6. As Sabancı University, we have made it our motto to play a pioneering role in this matter. We are launching new initiatives to be prepared for such disasters and to increase the general awareness about disaster response. Our Society and Disaster Risk Management seminars, in which our professor Naci Görür participated, are also a part of this."
Our Secretary General Ali Çalışkan said, "We will always remember our dear student Neris Ece Öz with love with this olive tree, which is the symbol of immortality, that we planted on our campus today. With this remembrance, I believe that all our staff members, professors and students on our campus will undertake duties such as being prepared for earthquakes and taking part in disaster response efforts. I would also like to thank the family of dear Neris Ece for being with us at this meaningful meeting."
Our Dean Nihat Kasap said, "We chose the olive tree, a symbol of fertility, peace, wisdom and immortality, in order to keep the name of Neris Ece alive on our campus. With this tree we planted right in front of our Sabancı Business School, the name of Neris Ece will always live with us."
Neris Ece Öz Scholarship Fund Launched
In April 2023, the Scholarship Fund was launched in the name of Neris Ece Öz. In this context, a certain number of students who were affected by the earthquake and who will choose to study at our University by ranking among the first 50 thousand according to the 2023 YKS results will be supported with full education and accommodation scholarships during their normal education period.
Sabancı University staff members, in addition to alumni and other supporters, can get information about the contribution they can make by clicking here, and sending an e-mail to 2023_burs_fonu@sabanciuniv.edu.