The research project conducted by the digitalSSM Archive and Research Space, titled "VARIANT. Documenting New Media Art" hosts an online lecture by Prof. Siegfried Zielinski (the European Graduate School).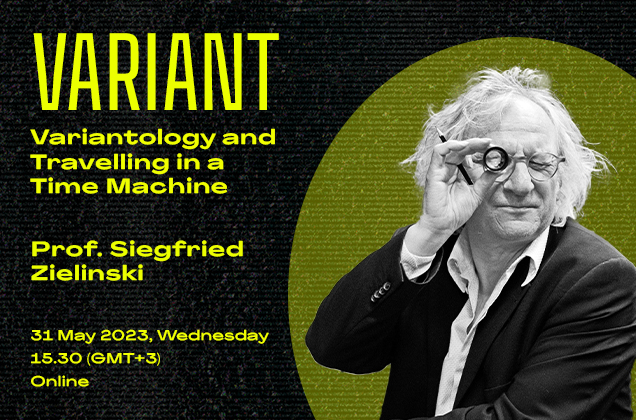 The conference moderated by Osman Serhat Karaman will be held online on Wednesday, May 31 at 15.30 (GMT+3). In his lecture, Prof. Siegfried Zielinski will focus on the archeology of the relationship between art and media along with his Variantology project in this field. He will discuss the dynamic network of relations between art, sciences, technologies, and question the originality of a work of art in the age of its infinite (re)producibility.
The conference will be held online, in English, on Wednesday, May 31, at 15.30, free of charge. For registration, please visit Sakıp Sabancı Museum's website.
The programs conducted as part of the conference series can be accessed through SSM's VARIANT. Documenting New Media Art project page.
About Prof. Siegfried Zielinski
Siegfried Zielinski is Michel Foucault Professor of Media Archaeology and Techno-Culture at the European Graduate School in Saas-Fee (CH), honorary doctor and professor of the Budapest University of Arts. He was chair of media theory at Berlin University of the Arts, and director of the Vilém Flusser Archive (till 2016). He was founding rector (1994–2000) of the Academy of Media Arts Cologne and rector of the Karlsruhe University of Arts & Design (2016-2018). Zielinski has published numerous books and essays mainly focusing on the archaeology and variantology of the relations between art and media. In cooperation with Peter Weibel he is also a curator of large format exhibitions at the ZKM Karlsruhe, such as 'Vilém Flusser and the Arts', 'Allah's Automata' (both 2015), 'Dia_Logos - Ramon Llull and the Combinatorial Arts', 'Art in Motion - 100 Masterpieces with and through Media' (both 2018). Zielinski is a member of the Berlin Academy of Arts and the North-Rhine-Westfalia Academy of Sciences and Arts.