Opening activity of "Right to Future Conference:Rights-Based Climate Action", initiated by Istanbul Policy Center and the Raoul Wallenberg Institute at Lund University, was held at Sabancı University Minerva Han.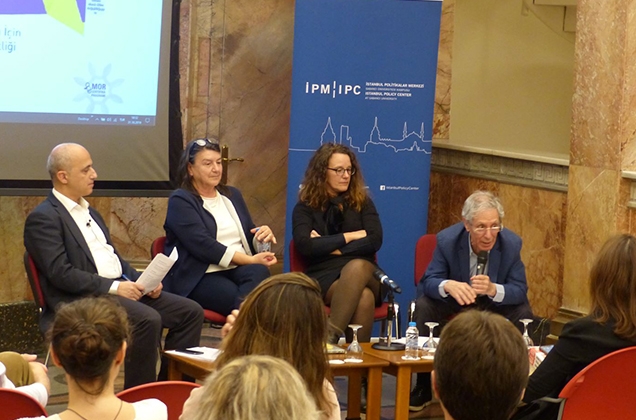 Opening activity of "Right to Future Conference: Rights-Based Climate Action", initiated by Istanbul Policy Center and the Raoul Wallenberg Institute at Lund University, was held at Sabancı University Minerva Han on 31 October.
The Right to Future Program was established in cooperation with the Istanbul Policy Center and Raoul Wallenberg Institute to ensure that climate action is discussed on a rights-based approach, to support the work done for this purpose and to strengthen the discourse of human and natural rights in climate action.
in his opening speech at the event, Raoul Wallenberg Institute Turkey Program Chief Consultant İlhami Alkan Olsson, stated that the institute carried out its activities on migration, society, economy-globalization and access to justice issues since more than ten years and ensured the enhancement of the academic capacity with research and education methods. Olsson stated, "New work topics include human rights and urban relations, human rights and daily life practices, and local governments. It is also working with seven different municipalities in Istanbul for a rights-based approach to urbanization and municipalism. These studies focus on disabled, elderly, women, refugees and children groups and aim to create an inclusive city. With this union of municipalities, the first step of human rights based municipalism has been taken".
Speaking at the opening, Istanbul Policy Center Senior Scholar and Research and Academic Affairs Coordinator Senem Aydın Düzgit talked about IPC's work areas, foreign policy analysis studies, climate studies, conflict resolution and urbanization studies.
We seize the rights of our born and unborn children
The program was presented by Istanbul Policy Center Senior Scholar and Coordinator of Climate Change Studies Ümit Şahin and Raoul Wallenberg Institute Researcher and Program Advisor Aysel Madra.
Ümit Şahin, in his speech, emphasizing that the climate problem is a huge problem not only for present generations but also for future generations, stated, "It is necessary to adopt a human rights and democracy-based approach and policy for all the generations." It is necessary to make an effort for the energy conversion. Climate justice is a big part of a rights-based approach" said.
On the other hand, Madra said that the aim of Raoul Wallenberg Institute is not only to strengthen the discourse of human and nature in climate action and to create a rights-based discussion area, but to support these studies and young academics, to continue translation studies and contribute to the literature and stated,
"The translations on the implementation of the basic message of human rights and climate change related UN human rights are important texts in the last year in both undergraduate and graduate level courses. We will continue our work in 2020."
The climate crisis cannot be solved without democracy and the right to participate
The keynote speech was held by the Raoul Wallenberg Institute at Lund University, Matthew Scott on "Rights-Based Approach with natural disasters, climate change and displacement". In his speech, mentioning more efficient and sustainable climate policies, Scott stated, "It is challenging to be successful at policies without the transparency and support of state institutions." State actors need to open their plans and work to the public. Human rights and anti-discrimination are also important in the climate issue. If these two principles cannot be achieved, projects are doomed to failure."
He emphasized that the growing climate crisis caused major human rights violations, particularly the removal of the right to life of future generations, and that the rise in sea levels, storms and floods, droughts, forest fires and other climate disasters directly threatened people's geographies, livelihoods and cultures. Emphasizing that indigenous communities, women, children, poor peoples and disadvantaged groups are more vulnerable to the negative effects of climate change, Scott said:
"Climate disasters are destroying ecosystems in the short and long term, destroying the habitats of all living things. Democracy and the right to participate are the sine qua non for the overcoming of the climate crisis and the beginning of the necessary transformation. The recent climate actions initiated by children can be considered as the beginning of a vital transformation towards future generations taking their own destiny into their own hands."
On the other hand, Istanbul University faculty member Seda Yurtcanlı, during her speech on "climate change as a human rights problem", drew attention to the human rights dimension of the climate problem. Emphasizing that no climate-related policy can be realized without taking human rights into consideration and without focusing on it, Yurtcanlı stated, "This struggle is not an individual but a collective right and has not only direct but indirect effects. In this regard, where the main actor is the state, a state that fulfills its financial obligations and cooperation responsibilities provides a way for seeking rights and strengthens the climate struggle. Moreover, Turkey is a country, which contributed to the global climate crisis cannot be underestimated.
The main issue: Reducing energy consumption
During the panel, moderated by Ümit Şahin, participated by Johanna Alkan Olsson, Expert Scholar at the Centre for Environment and Climate research, Lund University, Hilal Elver, United Nations Special Rapporteur on the right to food and Ömer Madra, Climate Activists from Açık Radyo; how urgent the climate problem is and urgently demanding development and change is discussed. They stressed the importance of demanding change rather than waiting, and said that they would be striving for the climate crisis, which is becoming more and more important in international law studies.
Emphasizing that it is unfair to restrict the climate issue to a narrow area such as environment exclusively within the implementation policies of local administrations and emphasizing that it should be implemented as a constitution that applies in all municipal service areas, Şahin stated, "Without political will, no progress can be made on climate, and most importantly, it is necessary to prevent governments from being managed by companies."
Stating that the most significant measure to be developed in relation to climate change is to reduce energy consumption, Elver said:
"Developed countries create the biggest inequality. Considering that the wealth of the 26 richest own as much as poorest 50% countries, the factors that increase the energy consumption incredibly are the houses with pools, usage of three cars per person and if there is no limitation in energy consumption, this uncertainty and inequality will continue. "
Supporting the same idea with the words "There is no free energy", Olsson said, "There is no single result. There is a link between food and energy, and it is not easy to find an easy solution, but it is certain that we have to reduce our energy consumption".