The UK-based higher education rating institution Times Higher Education (THE) has announced the 2023 World University Rankings. Sabancı University was included in the 401-500 bracket in the rankings, in which 1799 universities from 104 different countries were evaluated this year.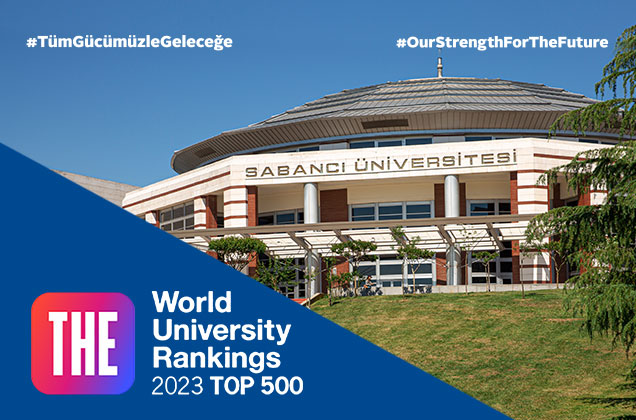 The Times Higher Education (THE) 2023 World University Rankings have been announced. In the rankings, Sabancı University is in the highest bracket among Turkish universities. The THE World University Rankings methodology consists of 13 performance indicators under 5 main areas, namely research, teaching, international outlook, citations, and industry income. Sabancı University, which is in the top 401-500 bracket in the list, stands out in terms of citations, which have a high impact on evaluation, as well as teaching and research.
Making a statement on the subject, Sabancı University President Prof. Dr. Yusuf Leblebici said, "We are proud and happy to be a university from Turkey ranking among the top 500 universities in the Times Higher Education (THE) 2023 World University Rankings. Today, our university, with its leading role in teaching, carries out many academic studies that make a difference. Especially as a research university, we receive strong project support from domestic and international sources. Within the scope of the recently-announced support program in cooperation with the Strategy and Budget Department of the Presidency and the Council of Higher Education, we have become one of the 3 foundation universities that are accepted as research universities. As a university, the amount of resources we allocate to research is 655 million TL. We are currently conducting 292 research projects. We are the foundation university that allocates the largest share to R&D with a rate of 32.70 percent. Thanks to the unique freedom to choose a program that we offer, our students can consciously choose their fields after coming to university, and direct their careers according to the field they graduate from. The reward for our academic success is also reflected in the results of this year's Higher Education Institutions Exam. We admitted 790 very bright young people, including the top-scoring student in Turkey, among Sabancı University students. The number of students we admitted from the first 1000 was 140. Currently, 94 percent of our graduates can find a job in the sector of their choice within a year after receiving their diplomas. I believe that we will achieve many more successes together with our faculty members and students in the future".