Endowed in the will of Sakıp Sabancı, the Honorary Chairperson of Sabancı University, the Sakıp Sabancı International Research Awards continue to reward scientists in the field of social sciences. Held for the 16th time this year, the Sakıp Sabancı International Research Awards had the theme "The Post-Corona World and Turkey: Social, Psychological and Political Impacts of the Pandemics". Professor Susan Michie, Director of the Centre for Behavior Change at University College London, who has made remarkable contributions to the field on a global scale, was found deserving of the Special Jury Prize.
During the speech she delivered at the on-line award ceremony, Güler Sabancı, the Founding Chair of the Board of Trustees of Sabancı University, reminded that the world expected promising news from scientists, and continued, "the Sakıp Sabancı International Research Awards are proof of Sakıp Bey's confidence in scientists regarding the future. The Awards are very valuable for both our University and our country since they are the first research award program in Turkey delivered on an international scale in the field of social sciences. In these extraordinary days, the whole world is watching scientists eagerly; we are expecting news from them that will be very promising for every human being on the planet. Once again, we come to understand that science is one of the milestones of human existence, and fully grasp the importance of the will of Sakıp Sabancı. Our University, of which Sakıp Bey laid the foundations with this in mind, is generating science for the world and raising scientists for the future."
"ALTUNİZADE DIGITAL CAMPUS IS LIVE"
Emphasizing that this year's theme for the Sakıp Sabancı International Research Awards was "The Post-Corona World and Turkey: Social, Psychological and Political Impacts of the Pandemics", Güler Sabancı said, "There is no doubt that we feel the impacts of the ongoing pandemic not only in the field of health but also in every corner of social life. Enormous changes have taken place in our lives during the pandemic. We are well aware that when this pandemic is over, the world will never be the same again. The Sakıp Sabancı International Research Awards have always monitored the global agenda closely. Due to the fact that the social sciences are important to understand not only the present day but also the future of the world, this year's theme is undoubtedly very significant for each of us. Addressing the impacts of the pandemic with their social, psychological and political dimensions is very important to be able to grasp the dynamics of the social transformation."
Mentioning that Sabancı University continued its investments unceasingly, Güler Sabancı continued, "We have established the Sabancı University Altunizade Digital Campus, which we position as a technology development base. Furthermore, we have inaugurated our new Visual Arts Workshop building. Our faculties, research units, forums and centers continue to make contributions to society and science through their work. I believe the late Sakıp Bey, who laid the foundations of our university with the vision of making it a world university, would be extremely proud of our achievements, and of the fact that we are a university that is doing the best under the current circumstances without postponing anything."
SUSAN MICHIE: WE CAN ONLY PROTECT OURSELVES BY PROTECTING EACH OTHER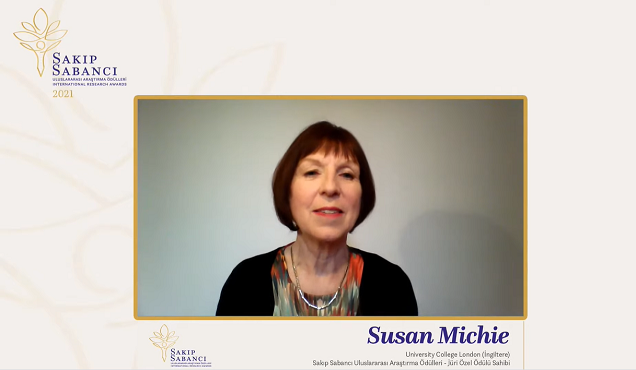 Winner of the Special Jury Prize, Professor Susan Michie, behavioral health scientist, also known as a political activist in the field of public health, delivered an address at the award ceremony. Saying that she was extremely honored to have been awarded the prize, Professor Michie continued, "I would like to share with you how psychology helps to fight Covid-19. Due to the Covid-19 pandemic, governments all over the world have asked people to change their behaviors. We have acquired new habits such as keeping social distance, wearing facemasks, self-isolating. However, observance of the rules depends on capability, opportunity and motivation. These 3 elements directly impact behaviors. Psychologists have played a key role in understanding and changing behavior to tackle Covid-19."
Pointing out that, "if we want to change the behaviors of citizens, we may want to achieve this by changing the behaviors of others; health professionals, employers, policy-makers and politicians," Susan Michie added, "First of all, we should ensure that policy-makers change their behaviors. The first step to ensuring change is to make recommendations for behavior change. Our research group has identified 93 behavior change techniques. Which techniques we use will depend on what will be appropriate for different populations, different settings, and different behaviors. So, if our task was to increase self-isolation, we would not use techniques to increase motivation such as threatening people with large fines, but instead use techniques aimed at increasing opportunity, providing social, financial, and practical resources to support self-isolation. In this context, trusted leadership is important. Communication must be honest, open, clear and transparent. And telling people not only what to do but explaining why people need to adopt certain behaviors; giving them a rationale. It is necessary to know and listen to the communities, and include them in decision-making. Governments don't always do what we advise but we always try to ensure the best advice. I hope that the government in Turkey is also benefitting from the advice of psychologists and other behavioral scientists in tackling Covid-19. No person, and no government, can protect itself on its own. Humans are all interconnected, and solutions must be global. We can only protect ourselves by protecting each other."
THEME OF THE NEXT YEAR HAS BEEN ANNOUNCED
The Sakıp Sabancı International Research Awards are administered under the leadership of Sabancı University Faculty of Arts and Social Sciences and Istanbul Policy Centre. Essays are assessed by independent and international jury members. Having, so far, rewarded studies in various subject areas, ranging from Turkey's economy and foreign policy to its history and social dynamics, the program has received a record number of applications from 5 continents of the world this year.
The three award-winning essays of this year are listed below:
"Socio-psychological dynamics in the fight against Covid-19 in societies with underlying conditions" by Associate Professor Ayşenur Dal and Associate Professor Efe Tokdemir, both from Bilkent University

"Cognitive and behavioural consequences of the Covid-19 threat around the world and in Turkey" by Onurcan Yılmaz From Kadir Has University and Ozan İşler from Queensland University of Technology (Australia)

"Believing Covid-19 conspiracy theories: Not a bug, but a feature of human nature" by Sinan Alper from Yaşar University
Professor Nebi Sümer, Faculty Member of Sabancı University Faculty of Arts and Social Sciences, was the chair of the jury, and the other members of the jury were Professor Fuat Keyman,  Sabancı University Vice President and Director of the Istanbul Policy Center, Professor Meltem Müftüler-Baç, Dean of Faculty of Arts and Social Sciences at Sabancı University, Professor Adil Sarıbay, Faculty Member at Kadir Has University, Professor Ayşe Üskül of the University of Kent, Kevin N. Ochsner, Chair of Psychology at Columbia University, and Jay Van Bavel, Associate Professor at New York University.
During the ceremony, the theme of the Sakıp Sabancı International Research Awards 2022 was announced as "The future of globalization in the light of Turkey and comparative examples: Is the state coming back?"