The application deadline for the Master in Action Research and Transformation (mART) program has been extended until Friday, August 26, 2022.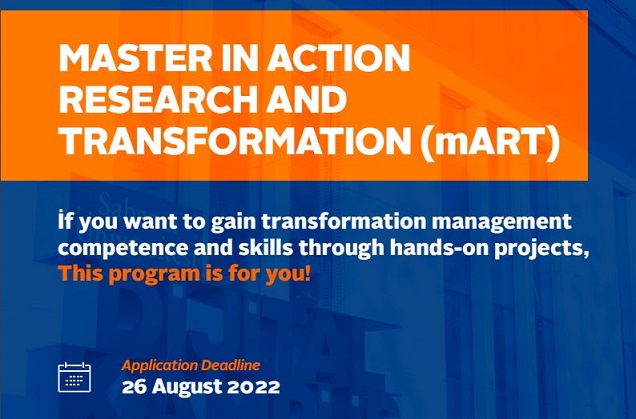 Turkey's first and only Action Research and Transformation Non-Thesis Master's Program, which will start with the 2022-2023 academic year, aims to respond to the needs of institutions and companies to be ready for the rapidly increasing transformations taking place as a result of developments such as climate change and pandemics as well as new business models and working styles.
Within the scope of the program, in which middle and senior managers can participate, the participants will take courses on subjects such as Workforce Transformation, Change Management, Decision-Making Practice, Action Research Implementation and Facilitation, as well as Institutional Transformation and Strategy.
Among the people who will teach on the program is David Coghlan, who is among the first names that come to mind on the subject of action research and the author of the book "Doing action research in your own organization".
The "Action Research Implementation and Facilitation" course offered in the mART program with contents prepared by BCG and Sabancı University academic staff will be delivered by guests who are leading professionals in the business world. The "Agile Transformation" course within the scope of the program will be offered in cooperation with ACM Agile company, which offers international consultancy services.
The duration of the program will be 12 months.
You can click here for more information.