TÜBİTAK-TBAE Quantum-Turkey Workshop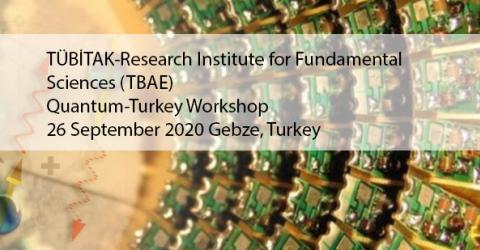 TÜBİTAK-Research Institute for Fundamental Sciences (TBAE)
Quantum-Turkey Workshop
26 September 2020 Gebze, Turkey
TÜBİTAK - Research Institute for Fundamental Sciences (TBAE), will be organizing a national workshop titled Quantum - Turkey on 26 September 2020. The purpose of this workshop is the determination of students who will attend to the Quantum Future Academy event in Berlin, Germany (1-7 November 2020) by interactive presentations and discussions.
Scientific Board: Alikram Nuhbalaoğlu, Ceyhun Bulutay, Özgür Müstecaplıoğlu, Sadi Turgut, Sevilay Sevinçli, Zafer Gedik
Organizers: Alikram Nuhbalaoğlu (TÜBİTAK TBAE), Zafer Gedik (Sabancı Üniversitesi)
Application Deadline: 24 Ağustos 2020, 17:00.
Website: https://tbae.tubitak.gov.tr/tr/haber/kuantum-turkiye-calistayi