The Exhibition Legendary Istanbul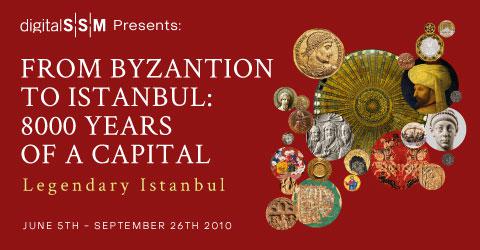 Sakıp Sabancı Museum (SSM) continues to carry the extensive contents of its past exhibitions to its digital channels through comprehensive selections. The exhibition Legendary Istanbul: From Byzantion to Istanbul – 8000 Years of a Capital held on June 5 – September 26, 2010, at SSM, is now available online via digitalSSM sources. Organized in collaboration with the Istanbul 2010 European Capital of Culture Agency and with the sponsorship of Sabancı Holding, the exhibition had shed light on the city's 8000 years of glorious history and brought together treasures scattered around the world through trade, gifting, and historical events such as the 4th Crusade, for the first time in centuries. The exhibition had featured a selection of objects and works from the collections of 58 leading institutions—39 located in Austria, Belgium, England, France, Germany, Greece, Hungary, Ireland, Italy, Netherlands, Portugal, Qatar, Russia, and Spain, and 19 in Turkey—to present 8000 years-long history of Istanbul in its every aspect from daily life to wars, economy to sacred places.
Organized via digitalSSM sources and available on SSM's website, social media accounts, and YouTube channel, the online version of Legendary Istanbul: From Byzantion to Istanbul – 8000 Years of a Capital presents a historic account focusing on the cosmopolitan population of the city, which has assumed the names Byzantion, Nea Roma, Constantinopolis, Konstantiniyye, and Istanbul throughout its history. The exhibition sections 'Istanbul in Prehistory,' 'Classical Greek and Roman Periods,' 'Capital of the Byzantine Empire,' and 'Istanbul: The Capital of Ottoman Empire' witness the multicultural qualities of the colorful population that has characterized Istanbul throughout its history, the energy emanated from this dynamic crowd, its ability to adapt to innovations, and the spirit of youth it had continued to reflect despite its long past. These sections include comprehensive texts and feature a wide selection of objects and works ranging from the prehistorical findings in Istanbul to Silahtarağa sculptures carrying the traces of Hellenistic art, as well as the busts of Roman and Byzantine emperors to the portraits of Ottoman sultans.
The online exhibition features video interviews with Dr. Nazan Ölçer, the director of SSM, Assoc. Prof. Koray Durak, who undertook the design of the Byzantine section, Prof. Dr. Mehmet Özdoğan, and Prof. Dr. Brigitte Pitarakis, who were both involved in the preparations from the early stages.
The SSM Shop items designed with inspiration from the exhibition are also available online.
SSM has been carrying its memorable exhibitions to its online channels through an up-to-date perspective. The series began with Picasso in Istanbul, which was later followed by Salvador Dalí: A Surrealist in Istanbul, Monet's Garden. Masterpieces from Musée Marmottan and Joan Miró. Women, Birds, Stars, all accessible on SSM's website, and YouTube channel.