Organized by Sabancı University Nanotechnology Research and Application Center (SUNUM), the Nano Open Webinars in the new period start with a webinar entitled "High performance miniaturized photonic devices for biomedical, agricultural, and environmental applications" that will be delivered by Professor Ibrahim Abdulhalim at 11:00 on Wednesday, December 21, 2022.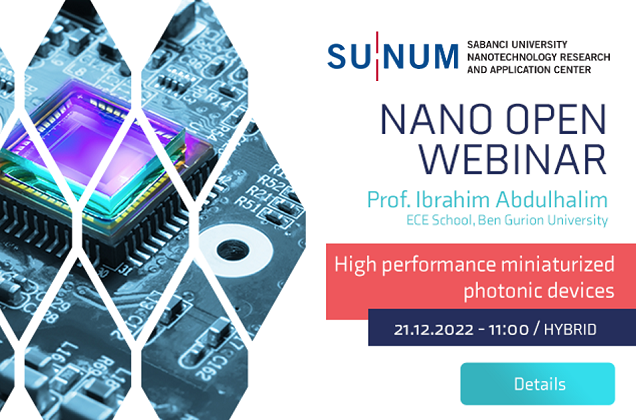 Prof. Abdulhalim son 10 yıldır bu amaçla tam alan optik eş fazlı tomografi, plazmonik sensörler ve spektral/polarizasyon kontrollü likit kristal aygıtları dahil olmak üzere farklı teknolojiler üzerinde çalışıyor.
Prof. Abdulhalim Nano Open'da, cilt kanseri tespiti için kanıtlanmış benzersiz sıvı kristal cihazlara dayalı spektro-polarimetrik görüntüleme modülü, 1 kg'den daha hafif plazmonik sensör ve biyobelirteçleri, virüsleri, bakterileri diğer analitleri tespit etmek için kanıtlanmış küçük form faktörü dahil olmak üzere bu amaçlar için geliştirilmiş minyatür cihazlardan, ultra yüksek hassasiyette geliştirilmiş SERS sensörleri konularını ele alacak.
Webinarın dili İngilizcedir.
Nano Open Webinarı'na kayıt için aşağıdaki linki tıklayınız.