To celebrate the 20th year of our university, we have prepared a set of four questions to ask faculty and administrative personnel who have been with us since the beginning, and to our first students. They all tell "the story of 20 years" from their own perspectives.
Going in alphabetical order, this week's interviewee for "The Story of 20 Years" is Aytekin Aşlı.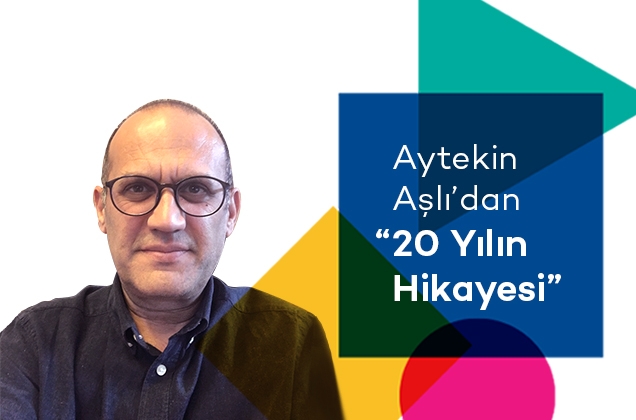 Aytekin Aşlı has been a member of Sabancı University since September 21, 1998. Aytekin Aşlı joined Sabancı University 22 years ago as an Administrative Associate, and after working at Karaköy Minerva Han for 4 years, he transferred to the Sabancı University Sakıp Sabancı Museum (SSM), Turkey's first museum to be endowed within a university, in March 2002 as Administrative Services Associate. Since September 2009, Aytekin Aşlı has been Financial and Administrative Affairs Manager of SSM.
Aytekin Aşlı's answers to our four questions are below.
What was your initial memory / impression of when you met Sabancı University for the first time?
A.A: I started my job at Sabancı University in 1998, at the Karaköy Contact Office. I think the campus construction had not yet begun, or was just beginning. They had invited us to Tuzla to show construction progress. The roads were much different then, of course. I had difficulty finding my way.

What are the differences between yourself 20 years ago and yourself today, and how did Sabancı University contribute to that change?
A.A: As an employee, I have changed a lot, and in a positive way. I have always considered it a privilege to work at Sabancı University, and I still do. It changed my view on life.
What comes into your mind when you think of Sabancı University in 20 years? What are your dreams for Sabancı University for the next 20 years? What about yourself?
A.A: When I think of Sabancı University, I think of a large family and being a part of it. I am sure that this university will keep being a highly-regarded university in 20 years.
Considering my age, I'm not sure where I will be in 20 years :) Being a part of this university is an honor that I will pass on to my son.

Where and how would you be now if your paths hadn't crossed with Sabancı University?
A.A: When I started in 1998, I was planning to be here 3-4 years at most. I had other career plans. But my career here was so satisfactory that I never thought of planning another one.